Sorry for the repost, but I've got a wicked case of shingles. This post is one of my favorite topics, so enjoy. Next month I'll have a new post.
Enamelware was a popular cookware in the 1800s because it was light, more durable than porcelain, and easy to clean.
Enamelware began to appear in the 1760s in Germany. It was conventional cookware lined with enamel and touted to be safer for cooking, as it supposedly prevented arsenic and lead from leaking into cooking. Some critics still complained of enamelware leaching tastes or elements into the food. In 1850 enamelware came to America via the Stuart and Peterson foundry in Philadelphia. This cookware was very basic as opposed to the many patterns and colors that would later be introduced into the United States.
This new enamelware was soon met with enthusiasm, but this soon waned.
Ten years ago the porcelain-lined kettles were considered a great invention for boiling substances that required particular care, and many a thrifty housekeeper has congratulated herself on the possession of one, and then grieved herself sick almost to find it burned black in a few days, through the carelessness of servants, and just as liable to spoil her delicacies as an ordinary tin saucepan.
Lady's Home Magazine, Philadelphia, 1857
Two companies founded by immigrants brought more enamelware to the United States in the 1860s with some improvements. The first one was Lalance and Grojsean, an importer of sheet metal and metal home goods. They set up a manufacturing company in New York and produced agateware, usually blue in color.
Frederick and William Niedringhaus started their company in Missouri, then moved to Granite City, Illinois. The company later became Nesco.
The best-known brands, especially the granite and agate ware names, held onto a strong position into the 20th century. They sold for higher prices. In 1899 Lalance and Grosjean's "Agate nickel-steel ware" was much more expensive than Haberman's "grey mottled enameled ware" L&G's 2 quart lipped saucepan cost 18¢ ; Haberman's was 7¢. Meanwhile, Sears had a set of 17 pieces of "Peerless gray enamel ware" selling for about $2.70. (http://www.oldandinteresting.com/enamelware-history.aspx)
Each item included a certificate assuring the buyer that it was arsenic and lead free.
The early enamelware was white. Most enamelware has a white lining even if the outerware has another color of pattern. Then white enamelware items acquired a blue or red rim. In the 1860s,
the Niedringhaus brothers took the science of enameling a step further and developed what became known as graniteware. While the enamel was still wet, they applied a thin piece of paper with an oxidized pattern on it. Once the piece dried, the paper fell away, leaving a design with the appearance of granite — hence, graniteware. (https://georgetowner.com/articles/2015/09/02/graniteware-marbled-mottled-or-plain/)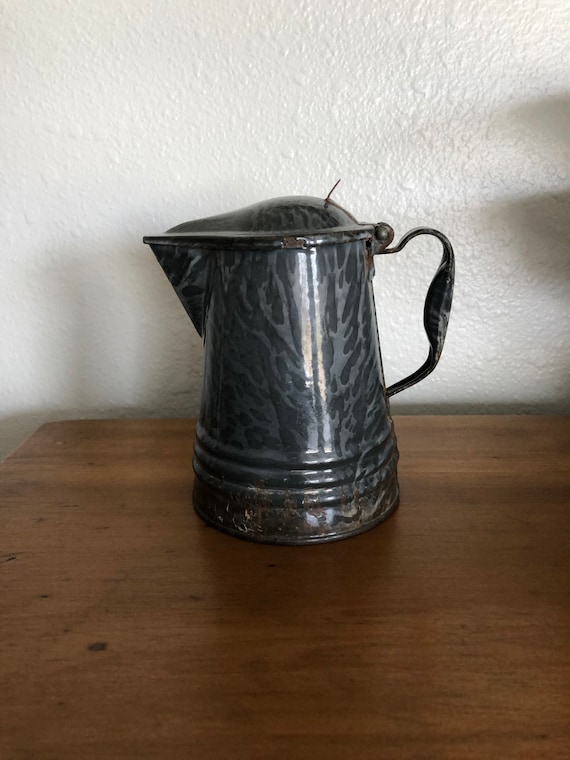 The term later became used to mean any speckled white and gray enamelware.
Speckled, swirled, mottled and solid, graniteware came in a variety of colors: red, blue, purple, brown, green, pink, gray and white. As the years passed, each period had its own style and color. One of the most popular patterns, even with today's collectors, was called "end of the day." Whatever colors were left over at the end of the day were mixed together to make a very unusual and unique color.
(https://georgetowner.com/articles/2015/09/02/graniteware-marbled-mottled-or-plain/)
In the 1930s new materials, such as Pyrex, aluminum, and plastic rendered the enamelware less popular. The metal drives of World War II saw many of the surviving pieces melted down and donated to the cause. Today enamelware is popular among collectors and ranges from quite reasonably priced to very expensive, depending on the type of cookware item.
Do you have any enamelware in your kitchen?
Sources: