SANTA FE'S AMAZING WHITE SISTERS by ARLETTA DAWDY
Ideas for blog subjects c many sources: research threads I read with interest but found no home in my writing: unique places I have visited over the years; a casual comment from someone at the next table, This time it was my daughter, a cultural anthropologist who led me to this particular "thread" She was recently a guest lecturer at the School for Advanced Research in Santa Fe, New Mexico. She thought I'd be interested in the White Sisters of "El Delirio" and she was right.
Martha and Elizabeth
Original photo on purchase of home in 1913; Albuquerque Journal. May 9, 2014
In 1913, world travelers Amelia Elizabeth White and Martha Root White stopped in Santa Fe in a cross-country trip. Folklore says they wanted to get their hair done. Not sure if they did that but they fell in love with Santa Fe and bought seven acres on Garcia street, in the historic district of Santa Fe.
c of sisters
Elizabeth (as she was known) and Martha were the wealthy daughters of Horace White, the railroad investor and publisher of the Chicago Tribune and the New York Post. They were graduates of Bryn Mawr, popular partiers as they continued to do in the 1920's at El Delirio (the madness.) The naming of their home grounds was taken from the name of a bar in Seville, Spain that served the women as a landmark to find their hotel!
Both young women had interests in the arts, especially Native American works and artists, and in raising pure-bred Afgan hounds and Irish-wolfhounds. They are credited with producing the breeds to international acclaim. It was their interest in archaeology that had them visiting sites across the Americas, including the many such in New Mexic
o.
The advent of World Was I led Elizabeth to work for the Red Cross in Belgian and French hospitals. At war's end, the young women returned to Santa Fe and started construction of the many buildings that would comprise El Delirio. The dogs "kennel" was actually a house with five bedrooms for dogs, a play room and trophy room. A billiards house was also constructed as well as the first swimming pool in the city.
Photo:Albuquerque Journal,
Original Main Room at El Delirio, now SAR lecture hall
The White sisters' luxurious main home, scene of many costume and other memorable parties, was filled with Southwestern art. Their architect was William Penhallow Henderson. The front door was a salvaged altar screen from a Guatemalan Church, damaged in an earthquake. They hired Gustave Baumann to paint over the crucifixion scenes with floating angels. He was also charged with doing the picture-map of the El Delirio grounds and buildings.
Many famous people visited El Delirio including Charles Lindbergh who did a fly-over. Adolph Bandelier for whom the Bandelier National Monument is named.
The Swiss archaeologist was originally buried in a crypt in Spain. Sometime later, Spain turned his bones over to the Director Schwartz of the School for Advanced Research ( founded in 1907 as the School for American Archaeology.) The goal was to "bring him home" to the monument, Red tape from the Park Service blacked that effort until his ashes were scattered in Frijoles Canyon in the monument
Elizabeth and Martha hosted assorted writers, artists and musicians over the years. They, no doubt, provided a haven in the desert for newcomers and olld timers alike. They were especially encouraging to Native American artists, potters, jewelers to evolve with their art into contemporary themes or impact.
In reading about the sisters, I could find no trace of romance in their scattered bits of history. It appears their devotion to one another may have been the main feature of their companionship.
During World War II, Elizabeth became involved with a national organization Dogs for

Defense.

It was dedicated to training large dogs to patrol ammunition plants, beaches, forts and ultimately in war zones.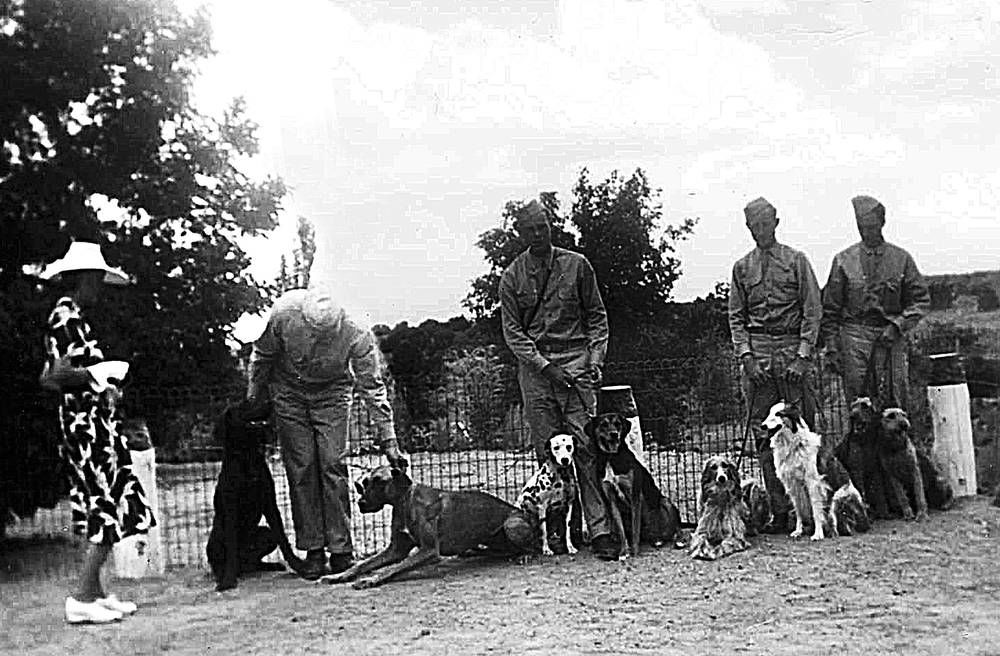 Photo Santa Fe New Mexican
Elizabeth with dogs and Servicemen, WWII, Dogs of War
After 40 plus years of conflict with the old director, Elizabeth took a seat on the board of SAR in 1948.
Martha died in 1937 of cancer; she was 57 years old. Elizabeth lived for many more years, dying on her 94 birthday in 1972. Their legacies carried on at El Delirio, now the site of SAR and in the treasures preserved by their acts of caring.
School for Advanced Research
1. "History of SAR," SAR publication, not dated or attributed to an author
2.Jackie Jadrnak, "NM's Original Party Girls," Albuquerque, May 13. 4, 2014
3. PMichael Abatemarco, "Rooms withViews: The Home of the School for Advanced Research, P asatempo, arts and cultural magazine of the Santa Fe New Mexican, 9/30/2016
4. Andy Stiny, "Santa Fe's Dogs of War,"7/22/2018.Santa Fe New Mexican.
Arletta Dawdy writes of old Arizona from her home in Northern California; she is working on her fourth novel, BISBEE'S GLORY.